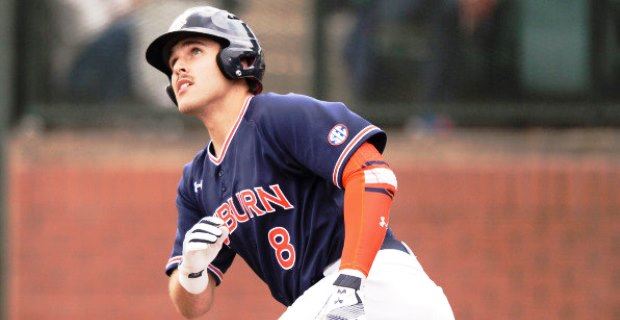 Not since the 2010 team won the Southeastern Conference West Division championship has an Auburn baseball team had so much for which to play so late in the season. And race to the finish line starts tonight at Ole Miss.
No. 16 Auburn (36-13, 13-11) and No. 5 Ole Miss (36-13, 13-11) are one game behind first-place Arkansas with two series remaining in the regular season. They are part of what could be a wild finish. LSU and Texas A&M are just a game behind the Tigers and the Rebels. Mississippi State is one game further back.
Auburn could come out of this weekend leading the West. Or it could come out in fifth place. The same is true of Ole Miss. Tonight's series opener starts at 6 p.m. and will be televised on ESPNU.
Third-year Auburn coach Butch Thompson says he won't dodge the title implications.
"We are trying to win everything we possibly can," Thompson said. "I've told this group for two and a half years that people don't fail because they aim high and miss. It's because they aim low and hit. I want us to win a championship, either the West or the next step or something. If you're a game out and you are a competitor and a winner, I don't know why I would not set our team up to go for that. Absolutely."
But, Thompson cautions, Auburn players can't get so focused on the championship race that they lose sight of what got them here.
"It makes you crazy if you think about the scenario are going to play three baseball games and play as well as we can," Thompson said. "Stay loose, stay resilient, stay together and let the chips fall where they may. I've been echoing that to our club. That's the best version of ourselves, when they're not umpiring, they're not focused much on the other team."
The Tigers, after falling to 4-8 after four SEC series, have won nine of their last 12. No SEC teams has done better over that stretch. Only Florida has done as well.
A team that struggled mightily on offense early on the SEC season is averaging almost 10 runs a game since then. Ace pitcher Casey Myers is having a historic season and is projected as the No. 1 pick in the major league draft.
Junior college transfer Brendan Venter has played a significant role in Auburn's offensive resurgence. After a torrid preconference season, he struggled early in SEC play. No more. He is on a six-game hitting streak in which he's hitting .571 with three doubles, four home runs and eight RBI. He's raised his average from .285 to a team-best .317. He's second on the team with 11 home runs, including three in the last two games.
"I've just kind of felt like I did at the beginning of the year," Venter said. "I've just kind of stuck with it and things are turning around for me. It's good."
Senior centerfielder Jay Estes has 10 hits in his last 15 at-bats and has raised his average from .276 to .310.
Ole Miss has had some struggles on the road but is 25-4 at home and has won 10 consecutive home series.
Junior right fielder Ryan Olenek leads the SEC with a .414 average. Chase Cockrell is hitting .352 with seven home runs and 29 RBI.
Here are the weekend pitching matchups:
THURSDAY, 6 P.M.
Auburn: RHP Davis Daniel (3-3, 5.28 ERA, 44.1 IP)
Ole Miss: LHP Ryan Rolison (6-4, 4.13 ERA, 69.2 IP)
FRIDAY, 6:30 P.M.
Auburn: RHP Casey Mize (9-2, 2.25 ERA, 84.0 IP)
Ole Miss: RHP Brady Feigl (7-4, 4.14 ERA, 67.1 IP)

SATURDAY, 4 P.M.
Auburn: RHP Tanner Burns (4-4, 3.00 ERA, 60.0 IP)
Ole Miss: RHP James McArthur (5-0, 4.09 ERA, 55.0 IP)