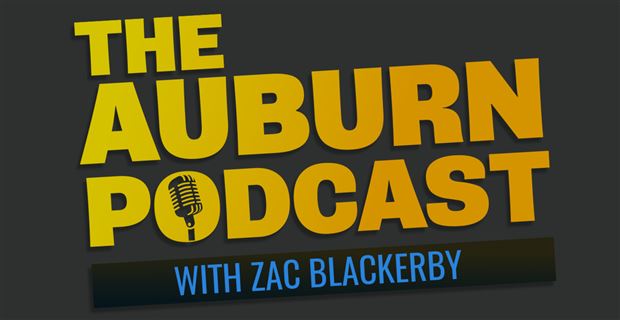 Welcome to The Auburn Podcast, your daily Auburn sports podcast presented by Auburn Undercover and hosted by Zac Blackerby.
On the Tuesday show, Blackerby is joined by Auburn Undercover editor Brandon Marcello to kick off a new era for the podcast. The guys talk briefly about SEC Media Days as well as the news that broke Tuesday on the recruiting front: 4-star linebacker Quandarrius Robinson commitment for the 2020 recruiting class. They also answer questions posed by Auburn Undercover VIP members.
You can use the following timestamps to navigate the podcast:
Start of the show: Blackerby and Marcello discuss SEC Media Days coming up and what they mean for the offseason. They also speculate what SEC Media Days is becoming and how it being moved to Atlanta is not as good as it being in Birmingham.
3-minute mark: Blackerby and Marcello hit on and discuss the news about Auburn football's latest commitment. The guys discuss what kind of impact the latest addition can have but also speculate that it is so early that it is hard to really focus in on members of the 2020 class.
5-minute mark: Auburn football lost a 2018 signee Monday. Marcello offers an interesting tidbit on some potential back stories revolving around the Kayode Oladele situation. The guys also touch on the fact that Auburn has been pretty good at holding on to signees since Gus Malzahn has taken over as head coach in December 2012.
9-minute mark: The guys wrap up the conversation on guys who are not yet on campus and transition into taking questions from VIP subscribers on the Bodda Getta Board on Auburn Undercover. Conversations include which freshmen could break out, running back predictions and how many wins Auburn could end up with in 2018. Blackerby also discusses his love for the super quick freshman Shaun Shivers.
End of the show: The guys wrap up the podcast by discussing a quarterback related question. Marcello chimes in with a comment he was told that could result in a quarterback shakeup down the road on Auburn's football team.
*** Subscribe FOR FREE for 7 days and get the latest Auburn recruiting and team scoops ***
*** Get FREE Auburn breaking news in your inbox ***
Zac Blackerby is the station manager of News Talk WANI and ESPN 106.7 FM in Auburn and the host of The Auburn Podcast. You can follow Blackerby (@zblackerby) on Twitter.
Brandon Marcello is the senior editor of Auburn Undercover. You can follow Marcello (@bmarcello) on Twitter or reach out to him via private message on AUC.