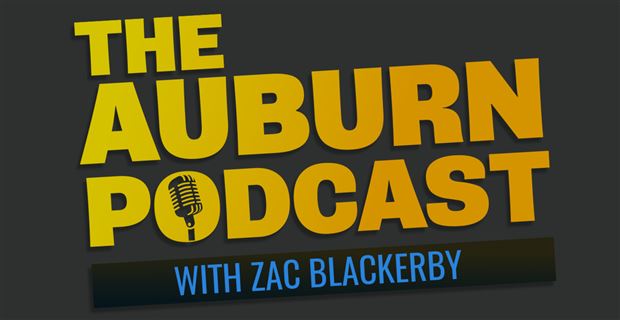 Welcome to The Auburn Podcast, your daily Auburn sports podcast presented by Auburn Undercover and hosted by Zac Blackerby.
On the Wednesday show, Blackerby is joined by Auburn Undercover recruiting insider Keith Niebuhr. Among other things, Niebuhr predicts the upcoming commitment of 4-star guard prospect Keiondre Jones of Hogansville (Ga.) Callaway. Additionally, Blackerby and Niebuhr discuss the most needed position in Auburn's 2019 recruiting class and the solid base that has been built for Auburn's 2020 class.
Use the following time marks to navigate the podcast:
Start of the show: Blackerby and Niebuhr discuss the NCAA dead period and what it means for college football recruiting. Despite coaches not being able to get face-to-face contact with targets, they continue to work behind the scenes to lock down guys that want to commit before the end of the summer -- and line up visits for late July. Even in the dead period, a coach's job never really slows down.
7-minute mark: Niebuhr sees Auburn as having a chance to land seven recruits in the 2019 class before the end of the summer, while providing the latest intel on each one. How many is Auburn likely to get -- and why? Here's an in-depth look at where things stand and how it all might shake out before everything is said and done.
13-minute mark: Auburn hopes to add quality linebackers in the 2019 recruiting class. Niebuhr explains why the May 1 addition of 5-star recruit Owen Pappoe to the class can help attract top talent to join the Tigers. Pappoe, he said, is extremely popular among recruits and is working hard to bring other recruits to Auburn. Pappoe is Auburn's only linebacker commit and the Tigers hope to add two more to the class.
15-minute mark: Blackerby asks Niebuhr about the latest with Bradenton (Fla.) IMG Academy running back Noah Cain, a 4-star recruit who is highly coveted by Auburn and others, notably LSU and Texas. While Niebuhr believes LSU could be the favorite, he thinks the season could play out in a way that favors Auburn. Right now, he sees those two programs as the most likely to land Cain, who has visited Auburn twice this year and will return for an official visit this fall. Cain and his family plan to watch LSU, Auburn and his other top schools closely this season.
End of the show: Earlier in the week, 4-star 2020 linebacker Quandarrius Robinson of Birmingham (Ala.) Jackson-Olin committed to the Tigers. Niebuhr believes Auburn is in a prime spot to build a great class during the 2020 recruiting cycle with the three recruits it already has on board. Each one is a 4-star recruit and the Tigers currently have the No. 7 class in the country for 2020.
Tune into the Auburn Podcast everyday wherever you listen to podcasts and on Auburn Undercover.
*** Subscribe FOR FREE for 7 days and get the latest Auburn recruiting and team scoops ***
*** Get FREE Auburn breaking news in your inbox ***
Zac Blackerby is the station manager of News Talk WANI and ESPN 106.7 FM in Auburn and the host of The Auburn Podcast. You can follow Blackerby (@zblackerby) on Twitter.