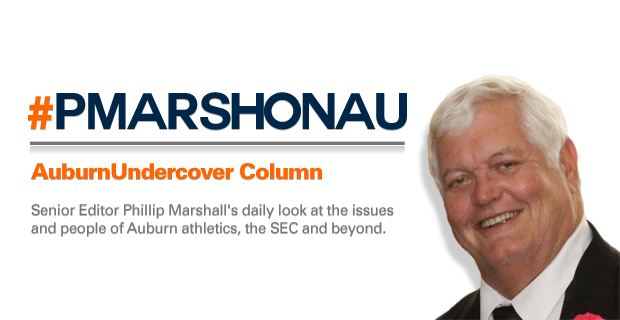 AUBURN, Ala. - Today's scrimmage, the first of Auburn's preseason camp, will be crucial for players competing for starting jobs. Chances are some players will take significant steps today toward reaching their goals.
Here is what today's scrimmage will be:
-- It will be a chance for offensive linemen Jack Driscoll, Austin Troxall, Kaleb Kim and maybe others to show they are ready for prime time.
-- It will be a chance for heralded quarterback Jarrett Stidham to show again he is the leader he wants to be, his coaches want him to be and his teammates want him to be.
-- It will be a chance for sophomore Malik Willis to solidify his hold on the backup quarterback job.
-- It will be a chance for freshmen to show they have left their high school days behind and are ready to compete in college football's toughest league.
-- It will be a chance for a running back or running backs to show they are ready to join Kam Martin in the playing rotation.
-- It will be a chance for receivers to solidify their places in the offensive scheme of things.
Here is what today's scrimmage won't be:
-- It won't be polished, perfect or anywhere close to it.
-- It will not be an indication of what Auburn will do or can do or even might do in its season-opener against Washington.
-- It will not showcase players, who just had their first day off after five days of practice, at their best.
-- Continuing an unfortunate tradition going back to the last couple of years of the Tommy Tuberville era, it won't be seen by the eyes of any sports writer other than those who work for the university web site. There will be a scrimmage open to high school coaches. There will be one open to donors. There are those who are allowed to watch them all. Those of us who cover the team are not on the list. As a result, we will be left to get information from coaches and others who were allowed to actually watch.
***
With the season-opener just three weeks from Saturday, this Auburn team has fewer questions to answer than perhaps any in Gus Malzahn's six seasons. Could it be Malzahn's best team? Top to bottom on both sides of the ball, it could be. But matching the accomplishments of the 2013 SEC championship team or even the 2017 West Division championship team will be quite a challenge against a road schedule no coach would wish on his worst enemy.
Today's scrimmage will be the first big step toward the first big game and a season that could have some fascinating twists and turns.