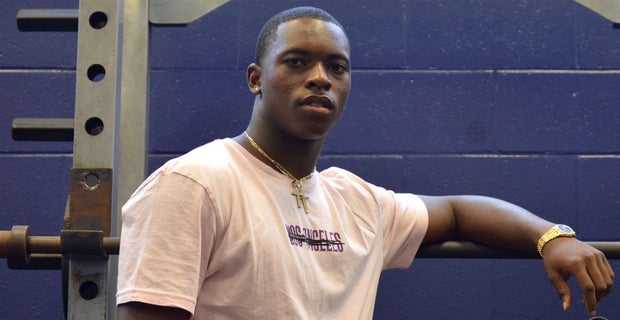 Five-star offensive tackle Wayna Morris of Grayson (Ga.) committed to Tennessee on May 1 but Auburn continues to heavily pursue him. Five-star linebacker Owen Pappoe, his teammate, pledged to Auburn the same day. Four-star defensive back Zion Puckett of Griffin (Ga.) Spalding, one of the Tigers' top overall targets, will announce his college choice Aug. 17.
Today, we have one on-one interviews with each. That's because all three were featured on the SEC Recruiting Buzz podcast this week.
Morris, a top-10 national recruit, plans to officially visit Auburn this fall. It most likely will take place -- as of now -- the weekend of the Tennessee game in October. Flipping him from the Vols won't be easy but both Auburn and Clemson are giving it their best shot. According to Morris, Clemson, his childhood favorite, potentially also could get an official visit. Pappoe and another Auburn commit, center Jakai Clark, are in his ear a lot about Auburn and Morris admitted the thought of playing with them (Clark also is at Grayson High) in college is at least somewhat appealing to him.
How solid is Pappoe? Very, he said. In his interview, he talked about his pledge to Auburn and why the school feels like home. Additionally, Pappoe goes into detail on what areas of his game he hopes to improve this season, who he is recruiting for the Tigers, his relationship with Auburn commits Bo Nix and George Pickens and how he thinks Auburn will do on the field in 2018.
Sandwiched between those two interviews, we chat with Puckett. Right now, Auburn leads with Tennessee next and Alabama third. He's a 4-star recruit who could play receiver or defensive back in college. The Tigers prefer him in the secondary and Puckett thinks the cornerback position might be the one that gives him the best path to the NFL. What stands out about each of his top three programs? How strong is Puckett's relationship to Auburn offensive lineman Brodarious Hamm, a former Spalding standout? What ultimately will go into his decision as his commitment date approaches? He goes into detail on each of these subjects and more.
As for Auburn, the Tigers are ahead of the pack because "of the atmosphere around the players, the coaches, community -- I feel like it's a good place to be," Puckett said.
According to Puckett, he got to know Hamm well when they were teammates during his freshman season at Spalding. They have remained fairly close ever since and Hamm is recruiting him to Auburn.
"I just learned a lot about leadership, just made sure I kind of followed that path and just stayed focused," Puckett said.
To guide you, here are the start times for each segment:
-Morris: :30
-Puckett: 9:42
-Pappoe: 20:01