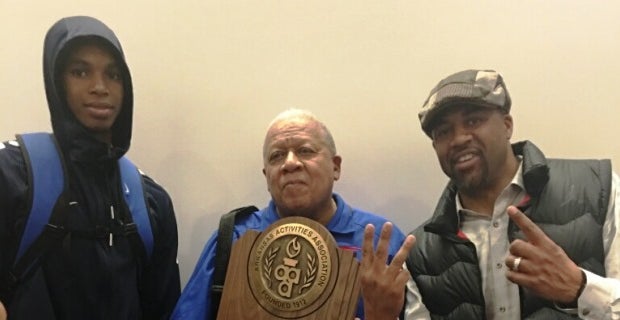 Another basketball-playing Flanigan is bound for Auburn. Allen Flanigan, son of Wes Flanigan, an Auburn assistant coach and former All-SEC Auburn point guard, said Monday he plans to sign with the Tigers and head coach Bruce Pearl.
"My family is down there, my mom," Allen said. "Auburn is a great place to play. Coach Pearl lets his guys get after it and play ball. He plays the best five."
Allen will play his final season at Parkview High School in Little Rock, Ark., where he plays for legendary coach Alfred Flanigan, his grandfather and Wes' father.
For Wes Flanigan, it's an opportunity for which he hoped and dreamed. And now is on the verge of happening.
"One of the bad things about the business is you probably end up spending more time mentoring other people's kids than you do your own," Wes said. "You miss so much valuable time with them. It's a blessing for Coach Pearl is giving me and my son this opportunity."
Allen, 6-foot-5 and 200 pounds, earned an offer from Auburn after standing out at the Fab 48 AAU event in Las Vegas. Other programs from across the country expressed interest. At Parkview last season, he averaged 13 points and 6.5 rebounds, but Alfred Flanigan says those numbers will grow considerably in the season to come.
"We had three or four guys that were good," Alfred Flanigan said. "He played his role. He averaged 13.6 and six. This year I'm counting him getting about 21 a game."
Allen's basketball bloodlines go deep. His uncle, Jason Flanigan, played at Ole Miss and is now a coach at Holmes Community College in Mississippi. His grandfather will end a Hall of Fame career after this season. Wes was a four-year Auburn letterman and winner of the Cliff Hare Award that goes to the top student in any sport. He was a graduate assistant when Auburn won the SEC championship in 1999.
Allen, his father and grandfather say, can be the best yet.
"He shoots the ball better than Wes," Alfred Flanigan said. "Wes was a dog when he was playing. Once he gets that dog in him where he wants to destroy somebody, he'll be better than Wes."
Wes offers no argument.
*** Try us FOR FREE for 7 days and get the latest Auburn recruiting and team scoops ***
*** Get FREE Auburn breaking news in your inbox ***
"That's something he's going to have to answer," Wes said. "He is going to definitely have the opportunity. He's as talented if not more talented than me and his uncle. He has size. He has skill. Obviously, we've already been through our process. He has his own road to take. I think the best is yet to come. If he keeps his head on straight and stays humble, anything is possible."
Allen's path through high school has been an unusual one. He missed his sophomore season because of a knee condition called osteochondritis dissecans. By the time he returned to the court, he'd grown some eight inches.
"That's why he's kind of late blooming," Wes said. "That leg was immobilized and everything had to mend back. He grew seven or eight inches. When he came back, he was a whole different player because of his size and length.
"It was almost like being a baby giraffe. His feet had gone from a 9 to a 14 and he was all of a sudden one of the taller players on the team. We look at him as a versatile guy. Coach Pearl loves versatility in his lineup. Before it's all said and done, I think he's going to be able play four positions for us."
Allen will sign in November, but he left Monday to return to Little Rock, where he will live with his grandparents and play in the final season of his grandfather's career.
"It's really special," Allen said. "We share an unbelievable bond. For me to be able to play and finish up in Little Rock playing for him means a lot."
And then it will be time to play for his father.
"It will probably a little like it is playing for my granddad," Allen said. "He'll probably be a little harder on me, but that's OK."
August 6, 2018